(originally published on Radiantmag.com)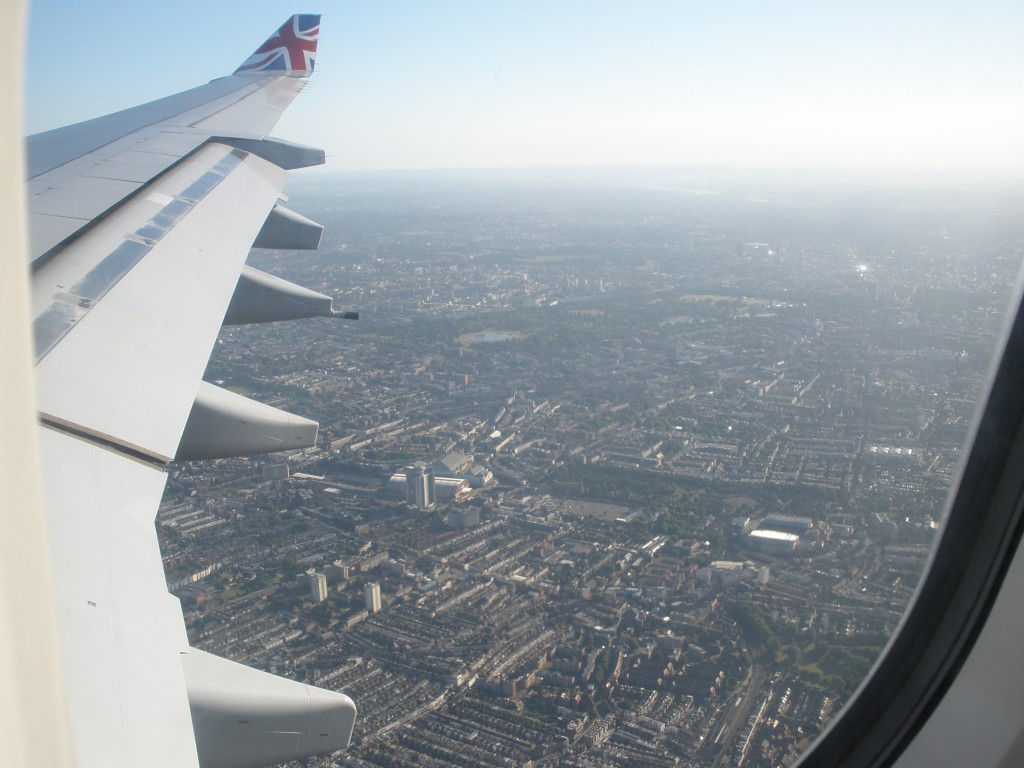 I had never flown in a small plane before. In fact, before college I had flown only a handful of times. My family drove to almost anywhere in the continental United States, and so it wasn't until I went to college that I started going places without my family and, consequently, flying to get to those places. Now, a year and a half out of college, my best friend lives in Phoenix, my in-laws are in Texas, and my extended family lives in Oklahoma—all of which are flying-distance away from our apartment in the suburbs of Chicago.
My husband and I flew to Oklahoma for the first time last weekend, taking a trip to celebrate his grandparent's fiftieth wedding anniversary. We had booked the flight months in advance, and in the interim I had forgotten that we would be flying on a small plane to Oklahoma City.
I have never liked flying anyway, but stepping onto a seventy-person plane in stormy weather was more than a bit unnerving. I had to duck to get through the doorway of the plane, and there wasn't room for carry-on luggage over our seats. I was lucky to fit my purse under the chair in front of me.
All of my fears about flying were confirmed only seconds after takeoff. Barely in the air for ten seconds, the right wing of the plane dipped and we took a hard turn right. My stomach lurched. Michael was sitting in front of me, and I reached for his arm and squeezed hard. We had no warning and I wasn't used to planes making sudden movements. The plane began to center, and just as I was leaning back into my seat and trying to breathe again, the left wing of our plane dipped and we took a hard turn left.
For a moment, I truly thought that I was going to die.
The pilot righted the plane again, but I was braced for something worse. When we stayed steady for a full minute, I expected the pilot to come over the intercom and say something about the awful turns to put our minds at ease and explain the horrifying takeoff. But he said nothing, making it almost worse because my imagination could roam. Do we have a drunk pilot? Is he a new pilot that doesn't know how to fly well? I literally thought about my mortality for the rest of the two-hour flight. We were following a storm path, and small planes do not handle turbulence well, so it was an on-and-off bumpy ride until we touched the ground. I began crying three different times during the flight, considering what it might be like to meet Jesus that very hour. I had my Bible on the tray in front of me, and when I could see through my tears, I read the Psalms and prayed for the Lord to calm my heart and my raging fears.
My mind was a blur of thoughts. I could die today. This could be it. I could meet Jesus face-to-face. Am I ready? What would the descent to the ground feel like from 35,000 feet in the air? Would I scream? What would my family do if I died? There were still so many things I wanted to do!
When we landed safely in Oklahoma City, I was literally never so happy to be on the ground in my life. I asked Michael, in complete seriousness, if we could drive home, or take a bus, or rent a vehicle that stayed on the ground. I was still shaking a little.
The reality, however, was that we had no way of getting back to Chicago in time for work and classes on Monday if we didn't fly home. I knew I had to get back on the plane on Sunday, but I tried not to think about it for the next day and a half.
The weekend of celebrating Michael's grandparent's fiftieth wedding anniversary in Oklahoma was beautiful. Nana and Papa both love the Lord and have raised a family full of children and grandchildren who also love Jesus. Their love for one another is full of respect and joy, and Michael and I have a spectacular model in their marriage. It was a wonderful weekend to be a part of, and I wouldn't have missed it, unless I had known about that awful flight ahead of time. And I probably would have missed one of the best weekends in my life.
When I had to live through that fear, I was reminded that God's love is meant to cast out fear (I John 4:19). But how much do I let his love invade my life? While I was not expecting an awful plane flight and the fears that it raised in me, I live with loads of other fears every day of my life. Sometimes I worry that when Michael walks out the door I will never see him again, or that we will never have real jobs and be able to afford to raise a family. I fear that I might not be able to have children, and if we do that I won't be able to raise them well. I worry about bad grades in grad school, about the way I share or don't share my faith in Christ with my classmates. I fear living a mediocre life, never being truly alive, forgetting about the important things while I lose myself in the details of dishes and detergent.
I fear failure. I worry that I'm not enough, that what I have to offer will be of little value or importance.
And the truth is that, apart from Christ, my life is nothing but a failure, hollow in its purpose and direction. What I have to offer the world, in and of myself, is empty. But in Christ and because of his sacrificial love, I am no longer a failure. I have worth as his daughter, as well as the potential to shape the world and change history because of his Spirit that lives inside of me.
And so I ask for Christ's love to invade my life and change me, make me fearless in how I live. Just as, with Christ's help, I got back on that plane back to Chicago (on another small plane, by the way), I keep coming back to Christ so that I can get back to really living. Living out of Christ's love means that I don't have to fear, but that I can live in his power to walk faithfully, powerfully, and joyfully. I don't want fear to keep me from missing out on anything—fiftieth wedding anniversaries included.