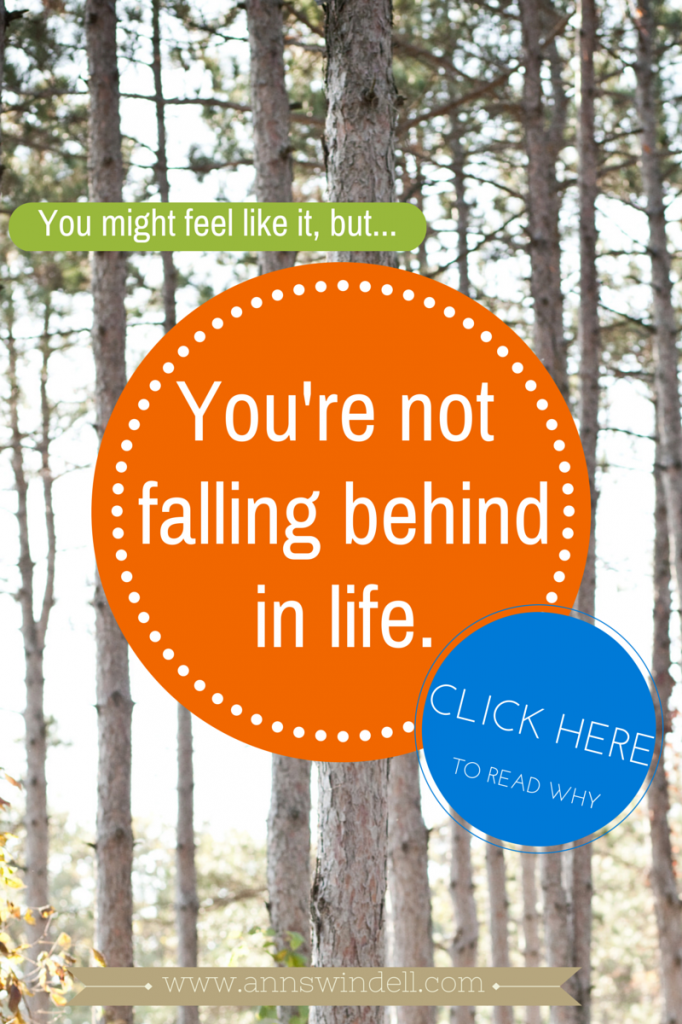 Michael and I are in a season that has required a lot of energy—both physical and emotional—from both of us. We are still getting this first year of parenting under our belts, and Ella has had three ear infections in three months (read: lots of interrupted sleep). Between our jobs, our parenting, our commitments to church, and our marriage, our proverbial plates are full. We love all that we do, and it's more than some people do and much less than others. Either way, let's just say that for us, life feels more than a bit stretched.
My tendency in seasons like this is to feel overwhelmed most of the time and carry that emotion as a burden. I fight anxiety or the nagging feeling of constantly being "behind." This is an area of my life that I am seeking to surrender to God. It is a continual journey for me to say yes to God and declare that my feelings do not determine the truth. The truth is what God says, and he tells me that I am securely held in his hands.
I am not "behind" in life if I am in step with Christ. Next to him—with him—is the exact place I'm supposed to be. If his pace with me is slower than it is with my best friend or my colleague, it is not my responsibility to try to catch up to them. In doing so, I would leave Jesus behind. Similarly, if his pace with me is faster than it is with my friend or my neighbor and if I slow down rather than pressing ahead with him, I leave Jesus behind.
I am not "behind" in life if I am in step with Christ.
Click To Tweet
Now—truly—Jesus never leaves or forsakes us. I know that I can't really leave Jesus behind. The one who "fills all in all" (Eph. 1:23) cannot be left behind. But I can move out of the place of peace he offers to me when I am constantly comparing myself to others or considering how my life measures up to theirs. That's where this feeling of being "behind" comes from, when it comes down to it: comparison. Because if I am only considering my life in light of what Christ is calling me to, I won't think about being behind—or ahead. My only goal will be staying in step with him.
Some of us feel behind because we're not married yet, or we don't have children yet, or we don't have the career we want yet, or we don't have the _____  yet. Fill in your own blank. That feeling of being behind can fill us with anxiety, even fear. We are afraid we are missing out on the life that we should have.
My question to you is this—Where is Jesus in your life? Are you ahead of him? Are you desperately looking for a spouse when he hasn't yet clearly opened that season in your life? Are you imagining your life when you have three kids and the white fence, placing all of your hopes in a future that has not yet materialized? Are you running into opportunities that Jesus hasn't granted to you? Slow down. Stay in step with him. Don't run headlong into things that God doesn't have for you. You will end up moving forward, sure enough, but without Jesus—and that is not really moving forward at all.
Are you behind him, dragging your feet against what you know he's called you to? Is there some relationship that needs to be mended that you refuse to reconcile? Is there some leap of faith he is calling you to take in your work or your life that you are hesitating on the edge of? Take the leap—run ahead and into Jesus. There is no better place to be.
And if you're in step with Christ—doing what you're called to, seeking to grow with him—stay put. Even if those around you are running ahead or slowing their pace, you are exactly where you are meant to be: with Jesus. If, like me, you tend to worry about being "behind" in life, look over and see the one who loves you more than his own life. See Jesus. He has you where he has you because he loves you.
What does it look like for you to stay in step with Jesus in this season?