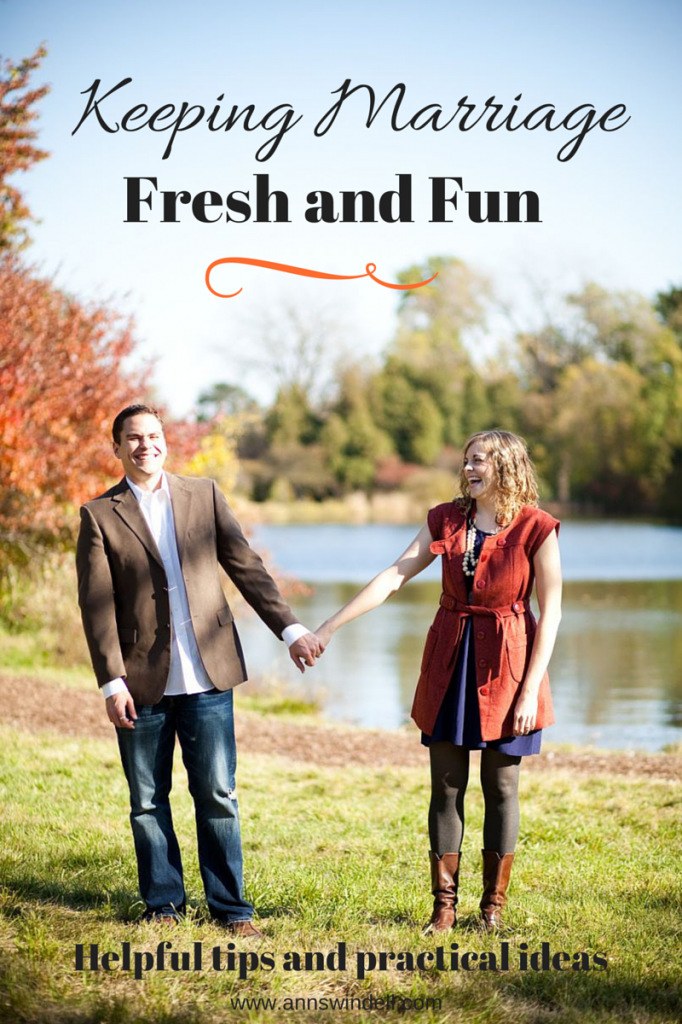 When Michael and I got married, we had a lot of time to watch movies on the couch, take weekend trips away, and try new restaurants. Our marriage was at the front of our hearts, minds, and calendars; although we didn't have a lot of money, we had time and creativity—two things more precious than any amount of gold.
Fast forward eight years and throw in a couple of demanding jobs, three grad school programs, a mortgage and a baby, and we discovered that there were two thousand other things that wanted to squeeze out that time and creativity that had been going into our marriage. Life got full. Too full. And our marriage was feeling the repercussions.
And so, to keep our marriage healthy and our lives sane, we stepped back and had to get really focused about making our relationship a priority. These ideas aren't perfect, but they've helped us grow and maintain a marriage that we both love, and I hope they can encourage you, too!
1. We date each other. No, we don't go out on elaborate dates every week. Or even once a month. But we do set aside one night every week that's just for us. Because my husband often has evening meetings for work and I often have projects and grading at night, if we don't carve out a specific time to meaningfully connect each week, it doesn't happen. Some date nights are pizza and a movie on the couch, and some date nights I put on my heels and we walk around our city's downtown, sharing ice cream and sitting in the park. Either way, we're making us a priority.
2. We mix it up. You know that saying—"familiarity breeds contempt?" It doesn't have to be true, but it can become true too easily if we fall into ruts in our marriage. If our time together is solely focused on managing a household, or if we only ever talk about work and how the kids are doing in school, we begin to feel disconnected and undervalued. One way to kick this pattern is to share a new experience together. See a show. Take some dance lessons. Try a new restaurant. When we step out of our zones of regularity, we get to see our spouse in a new light—something that can offer new opportunities for sparks to fly!
3. Two and Two. Over dinner, we often ask each other to share two feelings and two encouragements—an idea we stole from some of our friends. We each share about two distinct feelings we had during our day ("I felt excited when," "I felt confused when," etc.), and then we encourage our spouse in two ways ("I really appreciated that you took out the trash this morning," "You looked so handsome today as you left for work.") I'm always amazed at how far these little insights into each other's days can help us connect meaningfully—and feel loved.
Marriage is a gift and a challenge, and as seasons of life change, other things will always seek to squeeze out the time we could give to our spouses. But with intentionality and cultivation, our marriages will grow—and flourish!