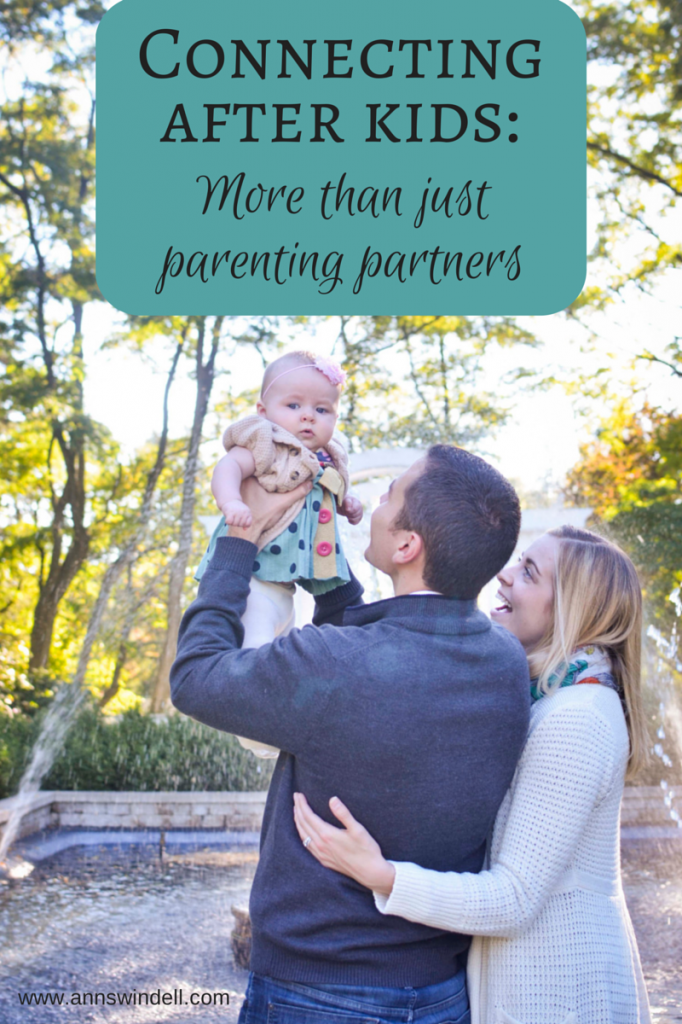 My newest piece is up today at Today's Christian Woman–an article about how Michael and I sought to intentionally connect as a married couple (and not just as parenting partners) after having our daughter. What follows is an abbreviated version of the full article, which you can read here!
Pregnancy was difficult for me. Recovery from an unexpected C-section was difficult for me. The initial transition into motherhood was difficult for me. The lack of sleep was difficult for me. Why I expected our marriage to fly through all of these difficulties without any significant emotional ramifications is beyond me. Maybe it's because, after being married for seven years, I assumed we would continue to connect well and operate the same way.
I was wrong.
It's not that Michael and I didn't still love each other. It's not that we didn't continue to have date nights. It's not that we didn't still spend time together. But it felt . . . different. I felt different. At times, I felt overwhelmed by how much my daughter needed me and by how little time there was to do anything other than care for her. As we emerged from the newborn stage, I found myself unsure about how to continue to invest in and develop my own passions, let alone the connection points in our marriage, when I felt so immersed in this new, tiny life.
Our marriage didn't feel the same.
Looking back, I can say now to myself: of course it wasn't the same. You had a baby. Your attentions are now divided. Your hormones are out of whack. You are a family of three rather than two. The external change is huge; the emotional change will be huge too.
But I didn't have those thoughts then. I just had a lot of feelings—and primarily, I felt less connected to my husband than I ever had before. I didn't want this shift to lead to a slow fade of operating as parenting partners rather than emotionally connected spouses.
As we talked with each other and with friends, we both committed, again, to making sure our marriage thrived in every season of life—including this new one with a baby. So we kicked our intentionality up a notch and made connecting as a married couple—and not just as parenting partners—a top priority in our lives.
The most important part of connecting as spouses? Prayer. We prayed—individually and together—for God's grace and wisdom as we sought to stay meaningfully united in this new stage of life.
With God's help, we also made several practical choices. First, we pared down our schedule. We had both been carrying full schedules before Ella was born; after her birth we realized our pace of life was not sustainable if we wanted to continue to have a healthy marriage. Michael took a break from graduate school, and while we kept attending a small group at church, we stepped down from leading it.
Secondly, we worked to share new experiences together. Parenting Ella was a new experience we loved, but we needed to continue to invest in our relationship as friends and lovers. Due to our exhaustion, date night had become routine—dinner at home and Shark Tank on the couch. So we mixed things up. We went to a matinee downtown. We went to a friend's wedding without our daughter, even though she was invited. We took a vacation. These experiences offered new avenues within which our relationship could grow.
Marriage is about the God our marriage is meant to point to; it is about us looking and loving more… Click To Tweet
Thirdly, we went to a counseling and marriage retreat. With the help of a Christian counselor, we were given practical tools for how to grow together emotionally in this new season of life. We walked away from that week with a shared grid for how to encourage and support one another better.
But there's no quick solution or easy answer to navigating these new waters since becoming parents. Our marriage has changed emotionally—as well as physically and practically—because we have changed. The transformation into becoming parents together has been a beautiful, stressful change for us, and with every new stage our daughter grows into, our marriage will have to grow as well. Our needs and hers are constantly shifting, and it will continue to take great intentionality and time—as well as heartfelt engagement with one another—to stay emotionally connected.
What does stay the same is God, along with the promises we made to one another at the altar so many years ago. We are committed to keeping our marriage as healthy as we can because, ultimately, our marriage isn't about us. It is about the God our marriage is meant to point to; it is about us looking and loving more like Jesus; and it is also, now, about a little girl who is toddling around our home. That is worth our time, our love, our intentionality, and our commitment—in any season of life.
Read the full article here at Today's Christian Woman!