"Faith," I heard a pastor say several years ago, "is spelled R-I-S-K."
Scripture, of course, gets the final word on defining faith, and the book of Hebrews tells us that "faith is the assurance of things hoped for, the conviction of things not seen." But I see the connection between the Scripture and the words of my pastor, because being "convicted of something we do not see" requires a certain amount of risk. Think of Abraham with a knife in his hand, holding it over his son, Isaac. Think of Shadrach, Meshach, and Abednego, refusing to worship an idol and being flung into the blazing furnace. Think of Daniel continuing to pray even though he knew there was a pit of lions waiting. Think of Esther approaching the king without being summoned. Think of Mary, unwed, saying yes to carrying the Savior. Think of Matthew, leaving the tax booth and a steady job to follow a poor rabbi. And think of Jesus, hanging on a cross for sins that were not his. All of these men and women risked: they risked their security, they risked their reputations, and they risked their very lives because they believed. Because they were people of faith.
But risking is scary business. I can't imagine that Abraham wasn't shaking when he held that knife overhead, or that Daniel wasn't knocking his knees when he faced the lions. Mary was probably afraid of what her family—and the town—would think when her belly started growing. And Jesus himself was so overwhelmed in the garden that he was sweating drops of blood before his betrayer came.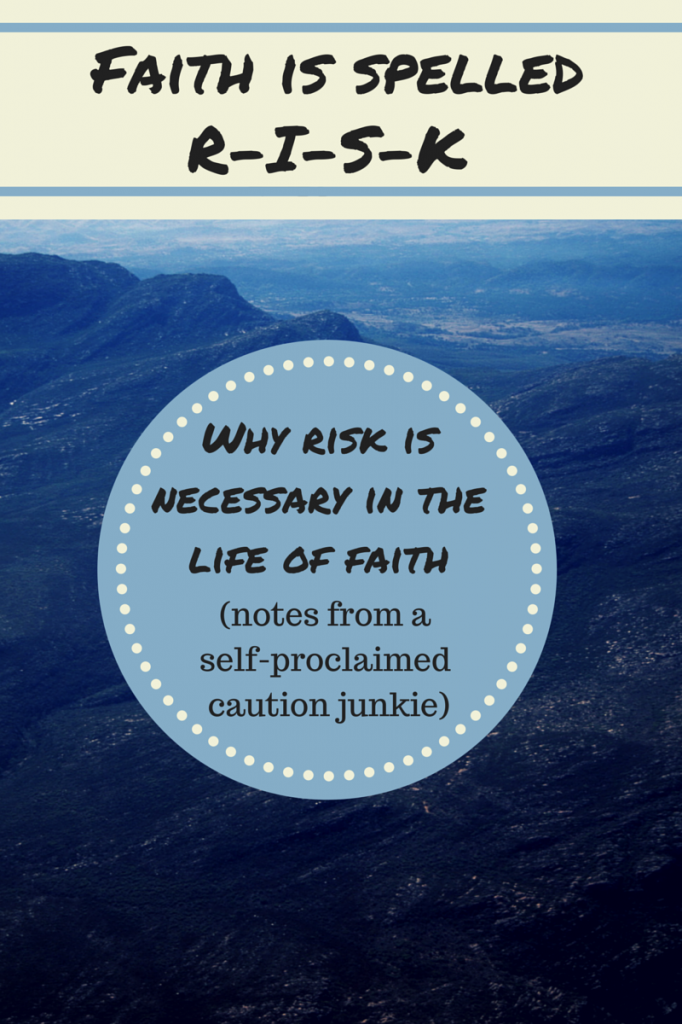 In my own life, too, faith and risk seem to go hand-in-hand. Several years ago, when God called my husband into full-time ministry, our church was unable to pay him—and wouldn't be able to pay him for at least five months. God was asking us to step out in faith, trust him, and take the job anyway. I was scared; it was risky. We had a mortgage and bills, but we said yes. And God met us in our need. He provided.
And a little while ago, my daughter and I were circling the grocery store. As we passed one of the employees, I felt a nudge from God. I knew what I was supposed to do, but I hemmed and hawed for a few minutes, feeling the social awkwardness of breaking the silence between two strangers and—gulp—trying to talk about Jesus.
Finally, I walked up to her.
"I'm sorry; I know this is kind of random, but I'm a Christian, and I really feel like God wants you to know that he loves you."
She looked at me, and immediate tears came to her eyes—and mine. I felt the love and presence of God there in that aisle in the grocery store. And I knew that Jesus loved this woman more than I could ever have imagined.
"Wow," she said quietly. And then, "thank you."
I nodded. We chatted a bit longer and talked about faith and Jesus; I invited her to church.
At the grocery store that day, God was asking me to step out in faith and take the risk of not knowing what to say or how she would respond.
But even in that small risk, I met Jesus in that place.
So when we walk into our daily risks of faith with our hands shaking and our knees knocking and our bank accounts dwindling and our grocery carts circling, we don't have to go with great confidence.
We just need to go, fear and all.
Because we will meet Jesus there.