My newest article is up over at RELEVANT Magazine, and I'd love for you to check it out!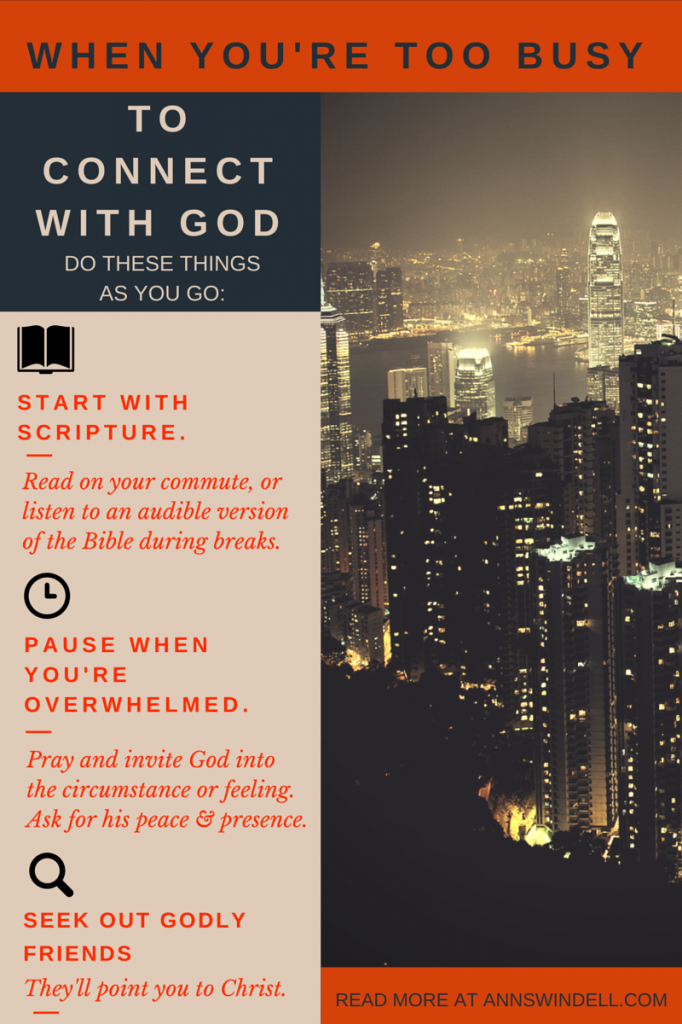 Here's the start of the article:
Busy. It's a word many of us use most of the time—we're too busy, so busy, very busy, or just plain busy. We've got work to do, children to raise, meetings to get to, appointments to keep, friends to connect with, spouses to love.
So how do we stay connected to God even when our lives swirl around us at a rapid pace? How do we keep Him central in our hearts and minds while we live our very busy lives? Here are a few ideas for staying close to Jesus even when life gets crazy:
Start with Scripture.
My goal is to read the Bible every day—early in the day—so that everything else I do is seen through the Biblical lens of reality. Reading the Bible is one thing that keeps me grounded in truth and connected to God. I have found, for me, that when I start my day in the Bible, my heart and mind are better prepared to respond to God's presence throughout the rest of the day—and I usually find that I am kinder in my responses to other people and more gracious with myself.
When I start my day in the Bible, my heart and mind are better prepared to respond to God's… Click To Tweet
And yet, even though I know how important it is for me to read the Word in order to stay close to God, it is surprising to me that something so simple can be so difficult to do on a consistent basis. So get creative if you need to. Do you commute to work? If you're driving, listen to the Bible on audio. If you're sitting on a train or on a subway, read the Bible on your phone or carry a pocket version of the Bible with you.
Listen to Truth.
There are a lot of voices swirling around us every day—voices that tell us we aren't good enough, that we have to find love for ourselves, and that we need to be more attractive and make more money. If I listen to those voices too long, I get sucked into those lies. So I seek to fill my head with music and words that keep me focused on God throughout the day.
If you're reading this, there's a high chance that you have access to an incredible amount of Christ-centered media options. Podcasts that point me back to Jesus in the midst of a crazy world, music that focuses my attention on Him and sermons that keep my mind grounded in truth—these are the types of things I try to fill gaps of free time with. They help me remember that in Christ, I am loved and that I have all that I need—things I constantly need to hear.
Read about praying throughout the day, pausing when you're overwhelmed, and Christ-centered friendships over at RELEVANT!