As people of faith, Ash Wednesday is  a day that marks us—figuratively and, in some traditions, literally—for a period of weeks that is meant to change us. Lent seeks to hush our ravenous appetite for ease and excess and, instead, remind us that the way of Christ is neither of those things. The way of Christ is the way down—down from heaven, down to the dust of the earth and the pain of a cross. It is the way of truth.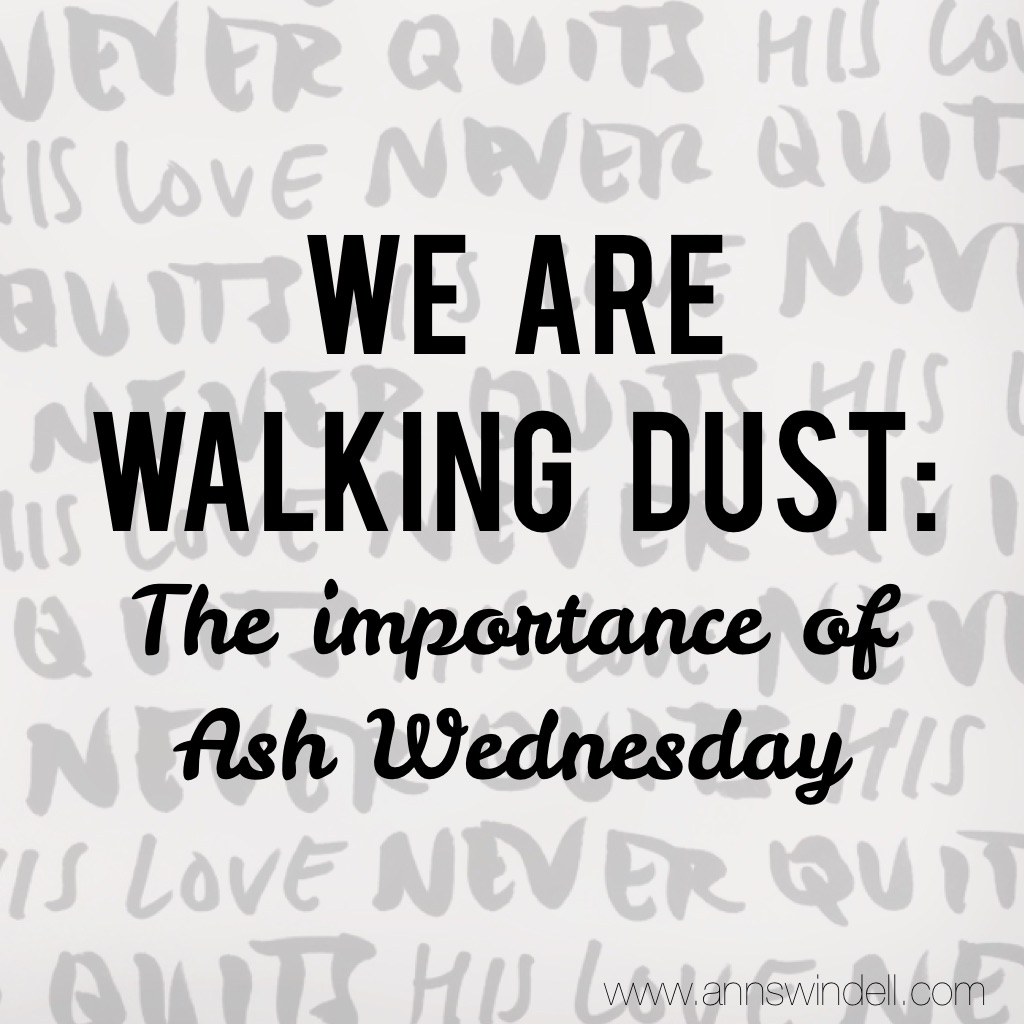 Psalm 103 has long been a favorite of mine; I love the way that the heart of David is uncovered as he declares what he knows to be true of God. Here, David is preaching to his own soul that God is the one who "forgives all of your sins" and "redeems your life from the pit." David goes on to offer the dizzying image of God as the one who hurtles our sin as far away from us as the east is from the west. And he remembers that God's love is with those "who fear him"—from "everlasting to everlasting." This is the Psalm that I read when I need to be reminded of God's character, for this chapter reminds me of his compassion, his kindness, and his mercy.
Lodged in the middle of one of these mighty declarations, however, is a reminder to the reader of our real state, in verses 13-16.
As a father has compassion on his children,

so the Lord has compassion on those who fear him; 
for he knows how we are formed,
 
he remembers that we are dust. 
The life of mortals is like grass,
 
they flourish like a flower of the field; 
the wind blows over it and it is gone,
 
and its place remembers it no more.
This verse elicits two responses in me. First, I see the kindness that the Lord has for us: he who is eternal cares for those who are finite. My life is a scratch on the husk of this earth, and yet he has compassion on me. How kind, how good, how loving is this God? But secondly, I am forced to come to terms with the reality that although I am flourishing now, there is a day soon in its coming when I will no longer be here. My body will give out; my skull will become a shell. As it is written in the Book of Common Prayer, one day my body will be "commit[ted] to the ground; earth to earth, ashes to ashes, dust to dust."
And here is the importance of Ash Wednesday. Whether or not you participate in a church service, you may see men and women walking around today with sooty crosses on their foreheads. Take a second look at the ones you see with these crosses smudged on their faces; that soot is a visceral reminder of our real state.
We are walking dust.
We are walking dust.
Click To Tweet
Infused with the breath of life, yes. For now. And although I cling to the hope of Easter each day of my life, believing wholeheartedly that the death of my flesh is not the death of me, I still will face death. As will you. In order to tell the truth, this is where we must start on this Lenten journey. Death comes to all of us. And yet, as David writes in Psalm 103, God still cares for us. He still loves us, has compassion on us, and has made the way for us to be free from all sin so that we do not have to fear this death. This is the hope we are inching toward during Lent, even as we come to terms with our own mortality.