The river here is humming. Steady, even, strong. We are in the mountains of Colorado on a family vacation, and in my hours on the back deck, I am attending to that hum. I am not just hearing, I am listening. And in the quiet of listening to the river, I am tuning in again to my heart. There is a lot going on there–many thoughts and things that have not had time to surface because of the constant pace of work and doing that fill my days.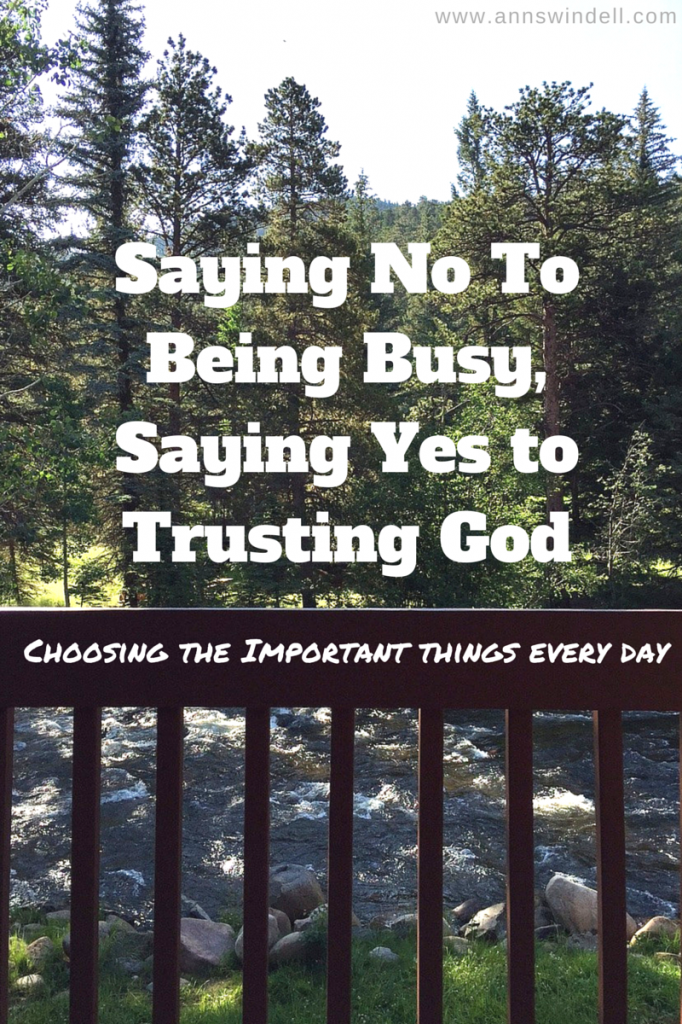 We're busy, aren't we? We are a culture that values busyness, even if it's not necessarily productive. I wear it as a badge of pride sometimes–I'm busy. The insinuation is that I'm busy doing important things. Really, a lot of times I'm so busy that instead of doing the important things in life I'm missing the important things.
I'm so busy that instead of doing the important things in life I'm missing the important things.
Click To Tweet
But here in the mountains, where the internet connection is spotty and the schedule is loose (our big daily items: hiking and napping), I'm slowing down. And I'm reflecting on how I've been living.
It's been a long time since I've really taken time off. I don't say that in pitying tone; I have loved my work for the last years and I have loved the writing projects that have filled up the margin that I've had. But this month, I've stepped back from working and deadline-based writing. I've been re-learning how to rest.
I'll be honest; it's not easy for me to really slow down and rest. I like feeling busy and I like having projects to work on. But this past month has been full of huge transitions for our family, and my soul has needed the time to reflect. I have needed to pull back and soak in the relationships and the days that are right in front of me. Everything is changing. These are good changes for our family, but I won't get these days back. I want to live them fully. I want to be attentive to the live I am living right now.
I don't want to spend my life busy with things that aren't the most important. I don't want to attend to the vibrations of my phone and my email and miss my daughter's fascination with Legos or the passing whistle of hummingbirds mere feet from my eyes.
And so: God is using my time on the deck to remind me to slow down and tune in to His heart above all.
It's the swell of summer: the river below the deck is high and full and fast. I have spent the mornings on the deck, praying and reading Scripture and marveling at how quickly the river passes me by. The water stops for no one and for nothing. It passes over and around rock, carries fish in its ribboning swirl, and stops for no man. It is a powerful force.
And I can't do anything to change that river. No matter how much I do, my own strength could never stop that river or slow it's flowing down, down to an end I cannot see. From above, on the deck, it's so clear to me that that river is unstoppable, except by One much greater than me. He can stop those waves instantly, if he chooses. I cannot.
Busyness keeps my head down and keeps me from getting a perspective where I can really see the state of things. It keeps me mired in the tyranny of the urgent rather than living for what is truly important. It keeps me from seeing the unchanging current of the river, and it gives me the fleeting illusion that I can change things if I just work harder or longer or do something else.
The river reminds me: there is only One–Christ himself–who can change the course of things. My responsibility is to stay close to him, to follow him, to obey him. When I do that, he will guide and lead the river of my life. I don't have to try to force the stream somewhere new. All of my busyness cannot change anything; one word from His mouth can.
All of my busyness cannot change anything; one word from Christ's mouth can.
Click To Tweet
So. I trust in him. I let him be in control. I stay faithful. If that leads to busyness, ok. But I'm going to seek to stay away from being busy just for the sake of trying to feel like what I'm doing is important. He already gave my life the highest value. He did the same for you. We don't have to stay busy to be living a purposeful, important life. We are important because of Christ's love and sacrifice for us.
Tomorrow, we're going whitewater rafting. I'm excited to see where the river takes me. I won't be in control, but I'll be riding in the waves who are controlled by the One who is.