I don't write much about clothes; in this space, I share a lot about my life and what God is doing in it, about what he's doing in the world, about how I encounter him in unexpected moments. Occasionally, I'll highlight a company I believe in who is doing amazing things in the world: Hand & Cloth and Sweet Aroma Coffee are two of my favorites (if you haven't heard of these organizations, do yourself and the world a favor and hop over to their websites to read about their meaningful missions).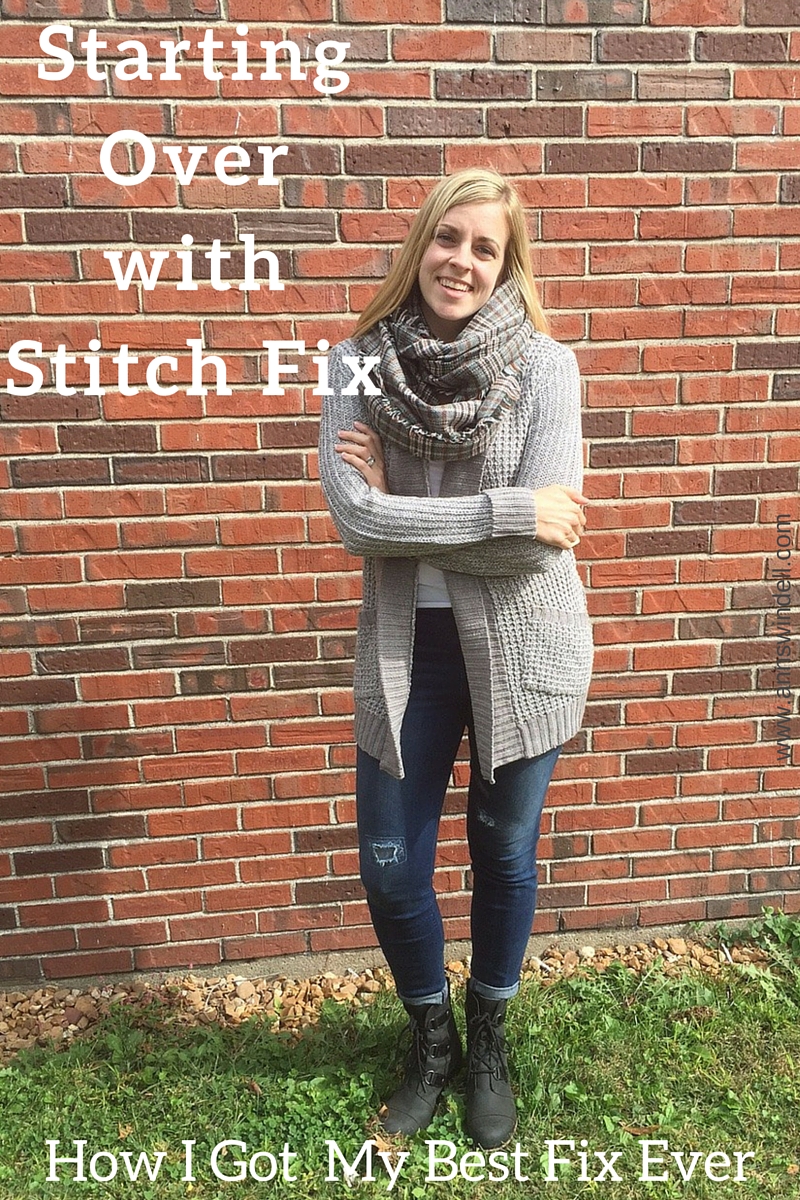 Here's the truth: the most important thing we should put on every day is love. Still, the other truth is that we all have to wear clothes (at least in public!), and Stitch Fix can be a great option. If you haven't heard about it, head to the bottom of this post to read about it.*
While I've tried Stitch Fix several times, I just recently got a box of clothes where everything worked for me. I'd gotten a few boxes that had been hit or miss; this time, my stylist nailed it. Here's what I did differently:
*Here's how Stitch Fix works: you order a "Fix" (a box of clothes) based on a style profile you fill out about yourself–colors, sizes, styles, patterns, lifestyle. A stylist picks five items for you (from sweaters to scarves to earrings to skirts to jeans), which are sent to you in the mail. The five items are a surprise! You try on clothes at home with the wardrobe you actually have, keep what you love, and send the rest back in a pre-paid envelope. It's remarkably simple.
Why I like Stitch Fix in this season of life:
1. I'm not in a season where I can spend much money on clothes, and I can set my price point with Stitch Fix. Also, if I buy all 5 items in the box, there's a 25% discount on everything.
2. I don't have to leave the house. Three words: Toddler. Time. Winter.
3. I can get a "Fix" as often or as rarely as I want. I don't get mine regularly (although many people do); usually, I request a box when I have an event coming up where I need a specific item (a dress for a wedding, for example).
4. The cost is a $20 styling fee, which goes toward any item you purchase.
5. Stitch Fix works for women in almost any season of life. From teenagers to retirees, they've got clothes for women in many stages, sizes (even maternity!), and professions.
If you want to try Stitch Fix, please click this link and I will get a referral credit. And let me know how it works out for you!