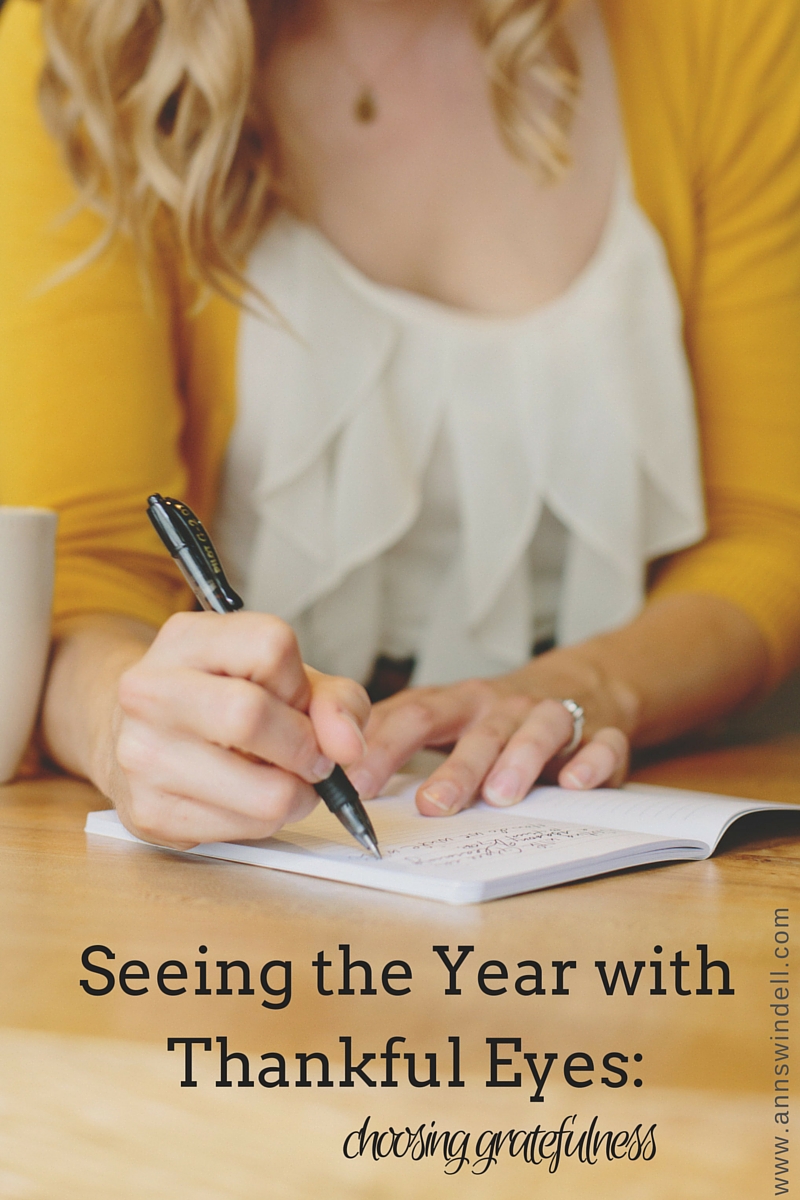 'Tis the season for year-end round ups, lists of favorites, and reflecting on the last year. I love this time of reflection between Christmas and New Year's Day–it's a short window in which many of us take time to think about what's happened in the last twelve months and start to dream about what's ahead.
And I love this week. Why? Because before we set our sights on the new year, it is very important to thank God for all that has passed–for his presence, his goodness, and his faithfulness to us for another year. We need to do this, not because God needs it, but because our souls need to recount all that has done.
I will give thanks to the Lord with my whole heart;
    I will recount all of your wonderful deeds.
I will be glad and exult in you;
    I will sing praise to your name, O Most High. [Psalm 9:1]
When we recount the Lord's goodness, it moves our soul to thank him–fitting praise for our Creator!
When we recount the Lord's goodness, it moves our soul to thank him.
Click To Tweet
For me, this blog post is one of the ways I am recounting his wonderful deeds to me and our family this year. We have to much to praise him for!
The past year was a year of change for our family, and it was hard in many ways. But it was also very good–and I am thankful for all of it, because it drew us to Jesus.
We moved to another state for my husband's graduate work.
I left my teaching job at Wheaton College.
We endured serious sickness but emerged healthy.
Michael and I celebrated nine years of marriage!
God provided for our family in miraculous ways.
I signed my first book contract with Tyndale House!
I launched my online writing course, Writing with Grace (class starts in January!).
I also had some writing highlights that I'd love to share!
One of my pieces for RELEVANT reached a very wide audience and was their most-read article the week it was published.
My honest piece about parenting was named as one of Today's Christian Woman's top articles for 2015.
I got to write for the Redbud Post–the publication of the Redbud Writers Guild that I'm honored to belong to.
I wrote one of the pieces I'm most proud of for Today's Christian Woman, about how I'm learning to accept my own body by teaching my daughter to love hers.
I was able to write for (in)courage a couple of times and always love sharing my words there.
Thank you for joining me here in this space. I'm grateful for all God has done and I look ahead to all that he will do in this coming year! What are you thanking him for?