Still Waiting is here! You can order the book at any of these retailers:



What people are saying about Still Waiting:
So few of us know how to wait well. Ann has lived a long wait and found God in it. We need the vulnerability–laced with the wisdom God has imparted during her years of waiting–that Ann Swindell offers on these pages. As only a skilled storyteller can do, she invites us to find our own stories within hers and within the narrative of Scripture that is written for us, the waiting ones.
-Sara Hagerty, Author of Every Bitter Thing Is Sweet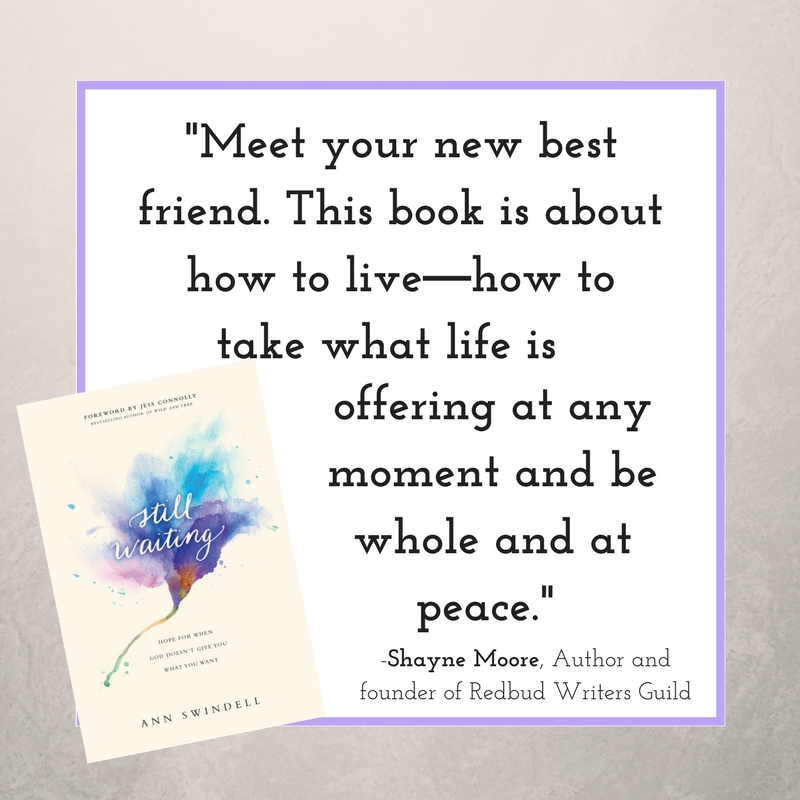 Ann has taken us through a tender, personal journey that we can all relate to. We understand the ache of shame, and we have our own stories of waiting for relief. With biblical truth and the gentle wisdom of a good friend, Ann tells both the Bleeding Woman's story and her own, and leads us to our present hope and fullness in Christ as we wait.
-Ruth Chou Simons, Founder of gracelaced.com, artist, and author
From the back cover:
What if God wants you to wait?
Most of us know what it's like to wait for God to change our circumstances. But, whether we're waiting for physical healing, emotional breakthrough, or better relationships, waiting is something we usually try to avoid. Why? Because waiting is painful and hard. The truth is, it's also inevitable.
In Still Waiting, Ann Swindell explores the depths of why God wants us to wait by chronicling her own compelling story of waiting for healing from an incurable condition. She offers a vibrant retelling of the biblical account of the Bleeding Woman that parallels her story―and yours, too.
Let Ann help you see the promise that is hidden in the ache of waiting and the hope of what God can―and will―do as you wait on him.
What's Your Waiting Style? Click below to take the quiz!